Peltier Device Information Directory
(Thermoelectric Cooler/Heater/Generator Modules)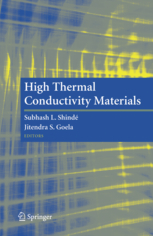 High Thermal Conductivity Materials

by Shinde & Goela
Publisher: Springer
289 pages

From the publisher:


"The main objective of this book is to cover the basic understanding of thermal conduction mechanisms in various high thermal conductivity materials including diamond, cubic boron nitride, and also the latest material like carbon nanotubes. The book is intended as a good reference book for scientists and engineers involved in addressing thermal management issues in a broad spectrum of industries. Leading researchers from industry and academic institutions who are well known in their areas of expertise have contributed a chapter in the field of their interest."







---
Copyright © 1999-2019 All rights reserved.